The Heinz History Center's Heroes & Sheroes: The Art and Influence of Ruth E. Carter in Black Cinema, an exhibition presented in partnership with FashionAFRICANA, features stunning costumes by award-winning Hollywood designer Ruth Carter.
Carter, who became the first African American to be nominated for an Oscar in Best Costume Design for her work on the 1992 film "Malcolm X," is the creative force behind the visually stunning fashions in movies like "Amistad," "The Butler," "Selma," and most recently, the Marvel blockbuster "Black Panther."
In February 2019, she will receive a well-deserved Career Achievement Award at the Costume Designers Guild Awards and is a safe bet to receive another Oscar nomination for her incredible work on "Black Panther."
We caught up with Carter during a recent visit to the History Center to discuss her work and the African American history she's brought to life throughout her three-decade career.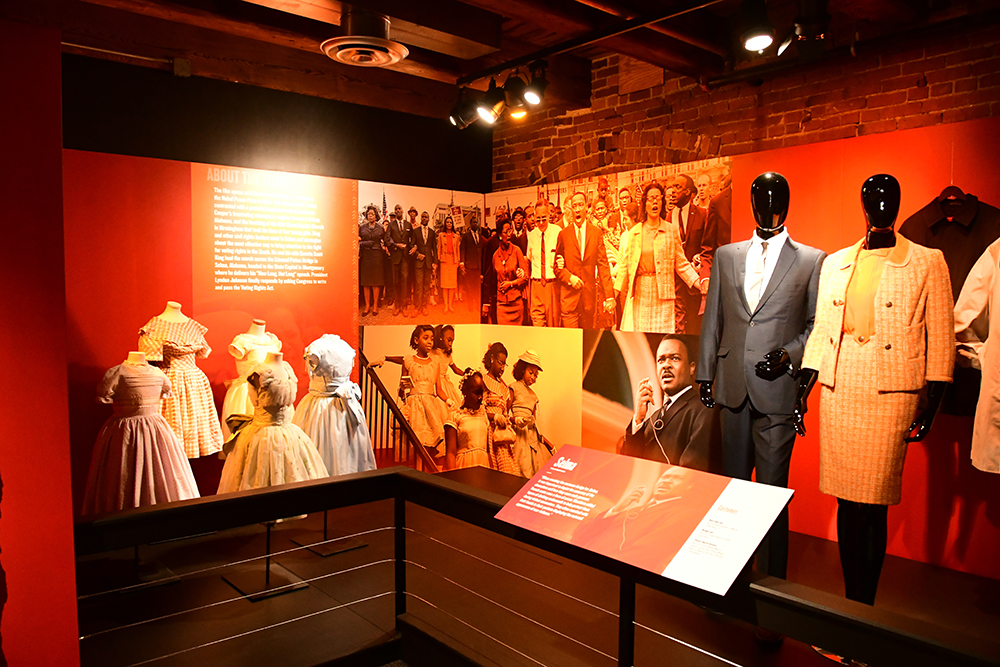 History Center: You've designed costumes for so many historically and culturally significant films, from "Malcolm X" to "The Butler." How does costume design help bring history to life?
Ruth Carter: I think through the research you can find little tidbits of costumes [in] what people wore [and] how they wore things that are different than today. It may be the weight of the fabric, the heavy wool. It could be the shape, like the zoot suits were a very specific shape. It could be a trench coat that's worn by a Civil Rights marcher and the way that he wears that coat. When you bring those things out, that helps us learn about history and about the times and the strife of mankind.
HC: When designing costumes for a period piece like "Selma" or "Amistad," where do you begin? What kind of research goes into recreating a particular time and place?
RC: I usually try to find photographs or a photo essay, or I will research the photographers of the particular era if photography existed during that time. There certainly are films that I've done where there was no photography, and so I had to go to art history books and look at some of the painters and how they depicted the costumes of the time. I have your standard textbooks of costumes through history, but I usually try to look at the way that each individual wears their clothes in order to recreate a scene or a character or a person.
HC: What's been your favorite time period to recreate?
RC: I can't pick one because I find something special about so many of these time periods. Once I say the '20s, I start thinking about the '60s, then I started thinking about the '70s… I just finished doing a film that was [set in the] 1970s, and I had a lot of fun with that.
HC: Was that the first time you'd done a film set in the '70s?
RC: No, I did one called "Black Dynamite" and it was a spoof on the '70s, and the one I finished doing just recently was called "Dolemite" and it was [set] right there in 1973. I have fun with the '70s!
HC: Now looking at "Black Panther" specifically, how did African styles and cultures influence your costume design process?
RC: Well, it was the imagination. I think when you look at the artistry throughout the continent of Africa, you see so many ways that the imagination is displayed, and the artistry. To be able to look at so many different tribal cultures throughout the continent and be able to see how they use their artistry and their imagination and then infuse that into a superhero film was just magic.
HC: How has your work helped to tell the story of the African American experience?
RC: I believe I have put my heart and my soul into my work, and I really care about how honestly I can depict culture. So in that sense, I feel that especially when [I am] depicting a historical event or a person, it really educates people about the past. And for African American history, it helps to paint the story of the journey of African Americans in America. I think that's pretty much [what] I feel like my influence has been in a real, honest, and passionate way.
HC: This exhibit is all about the heroes and sheroes you've dressed throughout your career, from real-life heroes like Martin Luther King, Jr. to fictional superheroes like Black Panther. Why do you love dressing these iconic figures?
RC: Because I learn something more about these iconic figures when I delve into their costumes. I can see that they at one time might've chosen things that are more flamboyant, and then at another time in their life they chose to be simpler and cleaner or just really somber.
It's wonderful to be able to depict Martin Luther King, Jr. and Coretta Scott King [in "Selma"] because we've seen them in so many pictures and have a fondness and belief in what they believed in. To have the privilege to recreate them for the screen is an honor.
HC: Is there a particular costume or set of costumes that you think best represents your work as a costume designer?
RC: I think the Dora [Milaje costumes in "Black Panther"] have the passion.
I believe that the Coretta Scott King costumes in "Selma" have the class.
I feel like the costumes of "Amistad" have the history, and the magic of art history, and what goes into creating a world that you know very little about because there are no photographs, and you really have to delve into the research.
I think the combination of those things kind of describes me.
The Heroes & Sheroes exhibit will be on display in the History Center's fifth-floor Barensfeld Gallery through Dec. 2, 2018.
Kim Roberts is communications coordinator at the Heinz History Center.