For National Volunteer Week, Laura Myers, the Audience Engagement Coordinator at the History Center, shares some reflections on our docent program.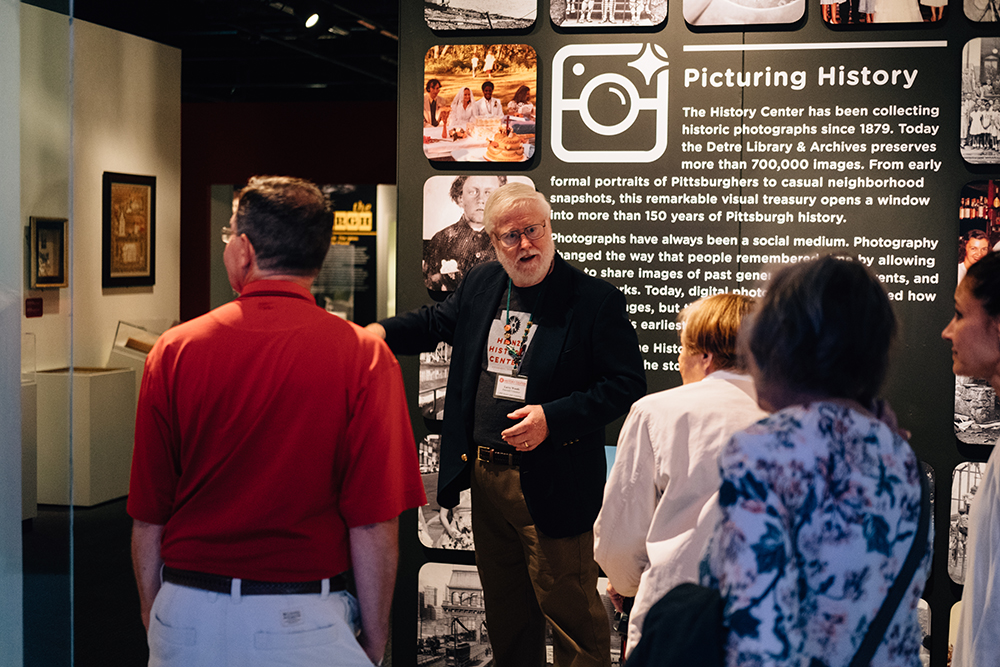 In 2017, docents at the Heinz History Center collectively logged 2,147 volunteer hours. As Audience Engagement Coordinator, I have the privilege of working with this group of truly dedicated volunteers who deliver tours to groups of students, families, and adults. I recently sat down with each of our docents to learn a little about how they came to volunteer and why they come back year after year. Unsurprisingly, our docents are passionate about history, but it turns out that what keeps them coming back is being a part of a community of lifelong learners.
History Center docents are proud of Pittsburgh and the history of Western Pennsylvania.
Many of our docents were born and raised here. Ask one what's so great about Pittsburgh and you'll hear stories of the glass, coal, and steel industries; the acclaim of our two Negro League baseball teams; the first world war (I know what you're thinking, but this is the French & Indian War); and so many famous Pittsburghers. But being from Pittsburgh isn't necessary to take pride in the history of our region.
For docent Ann Pistritto, being a docent has been a great way to learn about her new city and to create enduring friendships. "I walked into the History Center not knowing a soul. I didn't know Western Pennsylvania history or learning styles and how to 'give' a tour. Every docent I came in contact with took me under their wings and encouraged, taught, and gave me confidence I wasn't aware I possessed. There was no question too stupid, and they all had time to teach. The docents at the History Center became my first friends in the area, and I will never forget the warmth and affection they showed me."
History Center docents love learning.
The first step to becoming a docent is attending our annual Docent School, where docents-in-training learn not just history content but teaching techniques for engaging visitors. The learning doesn't stop when they graduate because docents attend enrichment opportunities and curator tours of our galleries throughout their time as History Center docents. When a new traveling exhibition, like American Spirits: The Rise and Fall of Prohibition, comes to town, docents dive into learning new content.
Docents tell us that their most important learning space isn't in any of our many galleries, it is the large oval table in the center of our volunteer lounge. Docents can be found sitting around that table before a tour begins and after it ends. With cups of coffee in hand, they discuss techniques for keeping their groups together, share new ways of interpreting the galleries, and trade historical tidbits from their own research.
History Center docents create experiences that spark curiosity for our visitors.
Ultimately, being a docent is about connecting with visitors and helping visitors connect with history. When reflecting on his goals for a successful tour, long-time docent Bill Evans always aims to create a spark. "Visitors might not remember all the information, but I hope I can set the spark that will make them want to learn more." Four years into her tenure as a docent, Ann talks about the importance of bringing history alive in ways that are "engaging, enthusiastic, and draw visitors into the experience."
The real reward for docents is the sense of accomplishment that comes when a visitor has an "I didn't know that!" moment. As docent Jack Sheehan says, "What keeps me coming back is the sheer fun of watching visitors discover what they have been a part of, and the discovery that this is so much more than memorizing dates and names as 'history' was taught in school."
For more information about volunteering at the History Center, fill out our volunteer application.
For questions about the docent program, contact Audience Engagement Coordinator Laura Myers at lfmyers@heinzhistorycenter.org or 412-454-6428.
Laura Myers is the Audience Engagement Coordinator at the Heinz History Center.