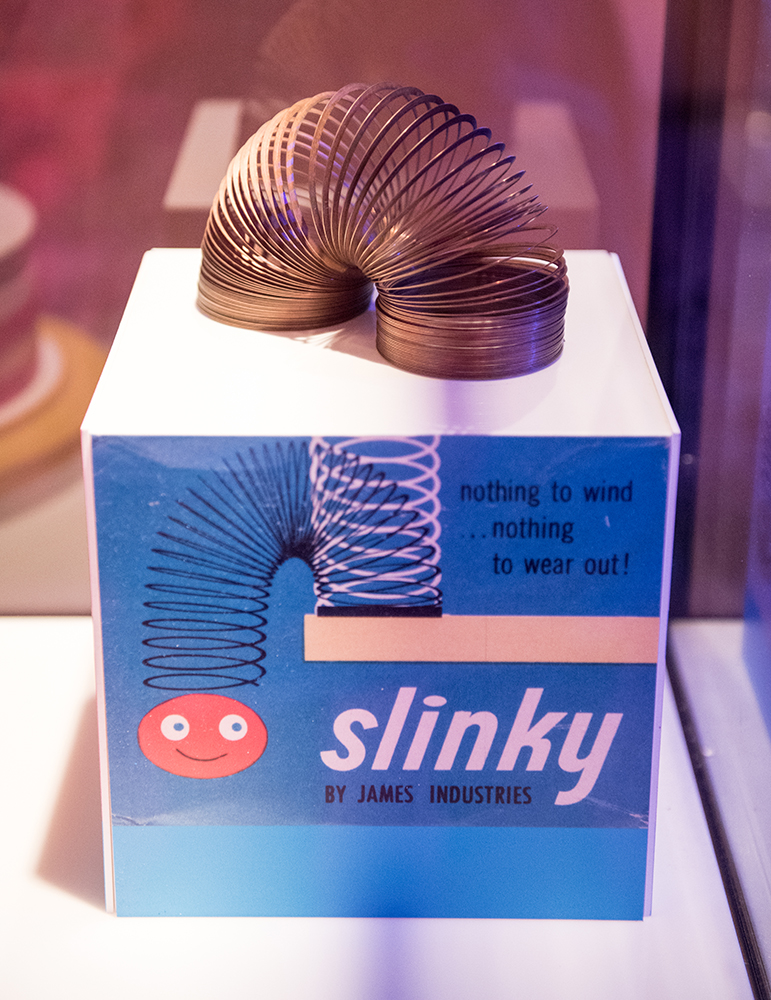 During the height of World War II, a U.S. Naval engineer accidentally invented one of the world's most popular and celebrated toys.
In 1943, Richard T. James, a 1939 graduate of Penn State University who was stationed at a Naval shipyard in Philadelphia, searched for a way to use springs so that sensitive equipment could be operated in turbulent sea conditions.
While conducting his experiments, he accidentally knocked one of the springs from a shelf, and watched as it "stepped" in a series of arcs to a stack of books, to a tabletop, and finally to the floor, where it recoiled itself and stood upright.
Later that night, James told the story to his wife, Betty, and suggested that the spring could function as a toy.
By 1944, James designed a machine to coil 80-feet of wire into a two-inch spiral, and the new toy was born. With the help of a dictionary, Betty James named the new toy "the Slinky," because she thought it best described the graceful movement and soft sound of the expanding and contracting metal coil.
In 1945, the couple created James Industries in Clifton Heights, Pa. (just outside of Philadelphia) and borrowed $500 to develop the initial run of 400 Slinkys.
During Christmas time that year, they contacted the local Gimbel's Department Store in Philadelphia, which allowed them to set up a demonstration on a ramp in their toy department. Not only could a Slinky perform serial somersaults down the ramp, but it could instantly turn a child into a faultless juggler.
The Slinkys were an instant hit and the first 400 sold out (at a price of $1 each) in just 90 minutes.
An advertisement with a memorable jingle turned the toy into a national sensation:
"What walks down stairs alone or in pairs and makes a slinkety sound? A spring a spring, a marvelous thing. Everyone knows it's Slinky!"
The company enjoyed success through the post-war economic boom of the 1950s, but by 1960, sales were down. That year, Richard James left his wife and six children to become a missionary in Bolivia, so Betty took over the company. She immediately moved production to her hometown of Hollidaysburg, Pa. – about 90 miles east of Pittsburgh – where many Slinkys are still produced to this day.
Betty, who was committed to keeping the Slinky at an affordable price, served as president of James Industries from 1960-1998, when the company was acquired by Poof Products of Plymouth, Mich., a manufacturer of foam sports balls.
The Slinky has evolved with the times throughout the past 60+ years, with products like plastic Slinkys and Slinky animals introducing the toy to legions of new fans.
One of those products, the Slinky Dog, debuted in 1952 but received lasting fame in 1995 as a star character in the Pixar movie, "Toy Story."
Thanks to the blockbuster animated film, Slinky sold more than 800,000 Slinky Dogs that year, boosting overall revenue by 25 percent and reigniting public interest in the legendary toy.
In 2001, Pennsylvania legislators named Slinky the official state toy, and Mrs. James was inducted into the Toy Industry Hall of Fame.
To date, more than 300 million Slinkys have been sold – enough to circle the earth about 150 times if stretched (but we don't recommend that!).
To see an original Slinky made by James Industries during the 1950s, visit the Toys of the '50s, '60s and '70s exhibition, on display through May 31.
Watch giant Slinkys race down the History Center's Great Hall staircase in this video produced exclusively for the Toys of the '50s, '60s and '70s exhibit.
Brady Smith is the Director of Marketing and Communications at the History Center.