"Take me out to the ballgame, take me out to the crowd…"
Each summer, Meadowcroft Rockshelter and Historic Village in scenic Avella, Pa., hosts an exciting afternoon of vintage "base ball" – originally written as two words – with talented teams from throughout the region. Spectators can bring their own chairs and a picnic lunch (peanuts and Cracker Jack, anyone?) and enjoy America's pastime in its original form.
Now in its sixth year, the event has become a beloved summer tradition for sports fans and history buffs.
Adam Johnson and his wife Jenette play for the Somerset County-based Addison Mountain Stars, which were established in 1994. Get to know Adam and the sport of vintage base ball in the Q&A below!
1. What is vintage base ball?
Vintage base ball is a re-creation of the sport of baseball the way that it was played in the 1860s. Players wear period uniforms, use period equipment, play by period rules, and ultimately attempt to portray the sport as it was when it was created. I like to think of it like the sport of baseball meets something like a Civil War reenactment.
Typically, a season will be somewhere around 10 events from May to October. Each event will have between two and six games, so it ends up being about a 30-40 game season.
2. What are some differences between vintage base ball and the modern-day sport?
Outside of the period-specific equipment and attire, the biggest differences depend on the rulesets by which the teams are playing. However, there are some common aspects of all 1860s rulesets that differentiate base ball from baseball. We do not wear gloves. This one gets a lot of attention because it's easy to spot and difficult to believe if you have never played baseball without a glove. Pitches are delivered underhand to the batter/striker as well. The last major difference common to most 1860s rulesets is that a ball is declared fair or foul depending on where it first touches the ground. This means that if you hit it straight into the ground in front of the plate and it spins backward into the player benches, it is actually a fair ball.
At Meadowcroft, we will be playing by the 1863 Beatles and Dime ruleset. These will be "bound rule" games, which means that a batter can be put out if the fielder catches the ball on the first bound. Recently though, the Mountain Star Base Ball Club of Addison has been playing more of the 1867 "Fly game," which is more similar to modern baseball in how batted balls are played.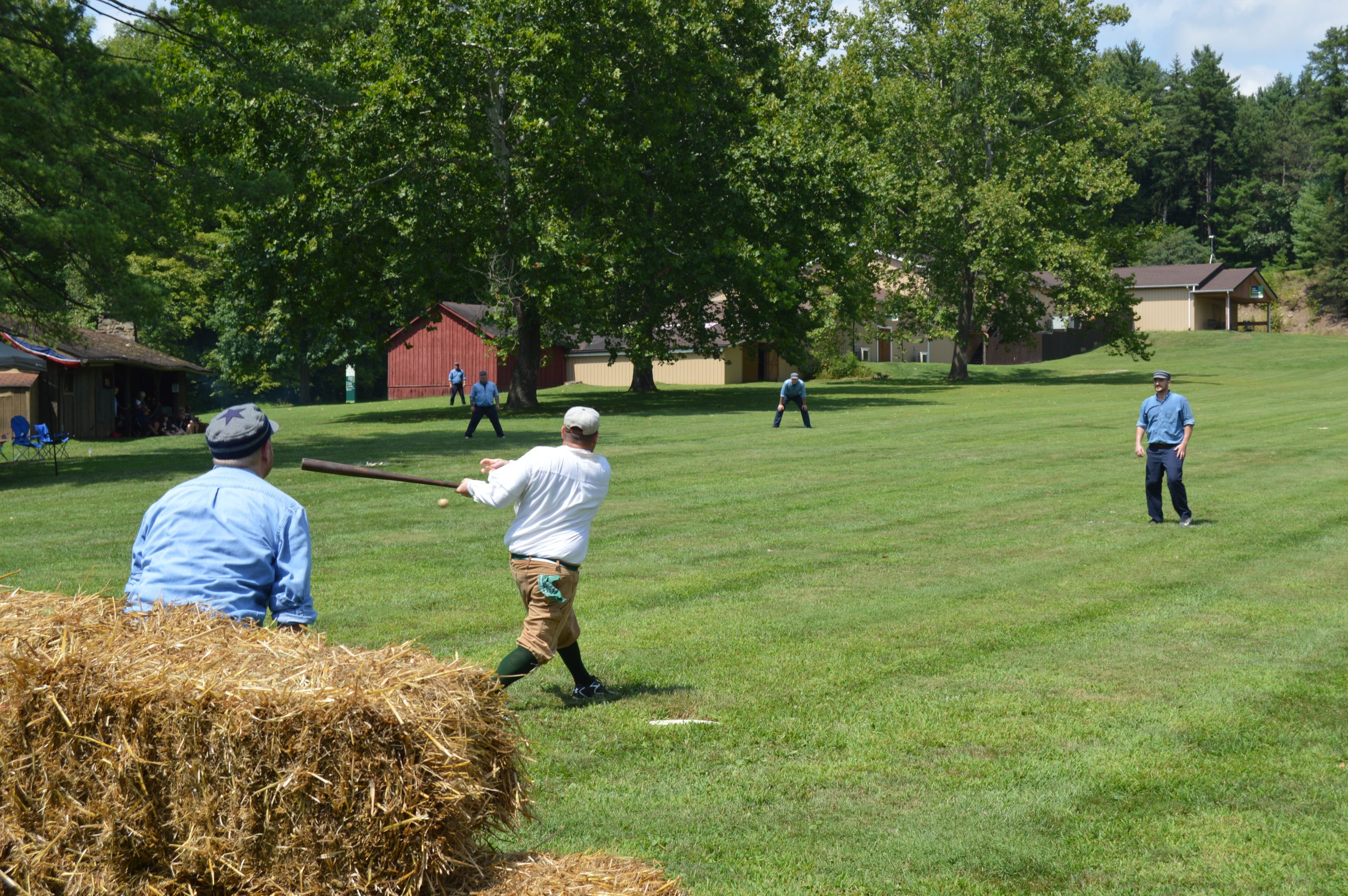 3. How did you get involved with vintage base ball?
[My wife] Jenette's father, Bruce Augustine, started the Mountain Stars in 1994 when a gentleman named Dick Siee moved to the area from New York. He brought the game with him and asked Bruce to take over a team when he was diagnosed with cancer and could no longer play. I was introduced to the sport when I met Jenette in 2004 and was immediately hooked. I've met more great people through this sport than through any other facet of my life combined.
I have been working with the captains of the Columbus Capitals, Akron Black Stockings, Canton Cornshuckers, and Frankenmuth Bavarians to start an official league called the Northern Alliance of Vintage Base Ball. This has been met with some criticism as leagues were not actually documented to exist until the 1880s. However, we believe this to be a great way to grow the game as well as maintain its integrity through the process.
4. What is it like to participate in the annual Vintage Base Ball event at Meadowcroft?
There are a lot of really cool venues for this sport, but something about [Meadowcroft's] historical significance just begs for a sport like vintage base ball to be held there. Players appreciate the opportunity to play in places of historical significance. There is definitely a symbiotic relationship there. Playing at Meadowcroft is pretty surreal if you sit down and think about it. We go out there and play what we consider a very old sport. But compared to what has been found at the Meadowcroft Rockshelter, our sport is just an infant. We are on the grounds of the oldest known human presence in North America. Those kinds of things really give you perspective.
5. What can people expect when they attend Vintage Base Ball at Meadowcroft?
On Aug. 22, 2020, the beautiful and historic Meadowcroft Rockshelter and Historic Village will showcase a doubleheader exhibition match between the two juggernauts of Western Pennsylvania's vintage base ball scene, the Somerset Frosty Sons of Thunder and The Addison Mountain Stars!
People who attend the Vintage Base Ball event at Meadowcroft can expect to see something different, something human. Vintage base ball isn't about the best athletes in the world testing the limits of exit velocity off of their bats and chasing hundred million-dollar contracts. Vintage base ball is the sport of baseball the way it was meant to be played, by gentlemen for the love of the game. We play this game to win. But more importantly, we play it to honor the game.
Kim Roberts is the Communications Manager at the Heinz History Center.