One of the most important steps for native war parties taking captives on the early American frontier was to prevent their prisoners from making an untimely escape. Tasked with the critical mission of bringing back live captives to take the place of deceased loved ones, Indian war captains and the men under their charge were loath to let their guard down, lest the traumatized prisoners attempt to flee.
While the threat of death at the hands of the war party was sufficient to keep most captives marching steadily onward, many war leaders preferred not to take such chances, binding their captives as an additional safeguard. For others, restraining the arms and hands of captives was as much a nod to an ancient custom as a practical matter. The ties they used were often not ropes, but elaborately decorated cords, deeply imbued with ceremonial significance. They were brought by the war party for a singular purpose, and they bound the prisoners both to their captors and to an ancient tradition.
An illustration from a French report on the various Iroquois clans, dated 1666, shows the manner of binding captured enemies, though the method of leading captives is also interesting to note. Many captives recalled that they were claimed by a particular warrior who placed his hands on them at the time of capture. Far from being only a sign of dominance, these warriors subsequently assumed responsibility for the well-being of their captives, often shielding them from attacks by other members of the war party who might be motivated more by vengeance than civic virtue. In the image below, the captive is not pulled behind, but kept in front of his "master," probably as much to keep an eye on a potentially volatile prisoner as to protect him from retaliation by other members of the war party.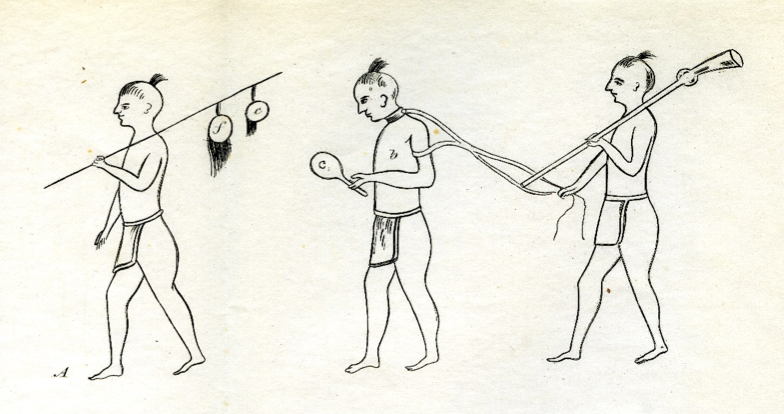 Though the warriors depicted in the image above were Iroquois, there is evidence to suggest that – just as with other aspects of the captivity ritual – the binding of captives was practiced in a similar way by many tribal groups east of the Mississippi. Captured in 1782 by Shawnee warriors, young Abel Janney, who initially resisted his attackers, later recalled that "one of them spoke to me in English, and told me to give up and I should not be hurt. I then handed him my gun and they took hold of me and tied me exceedingly fast."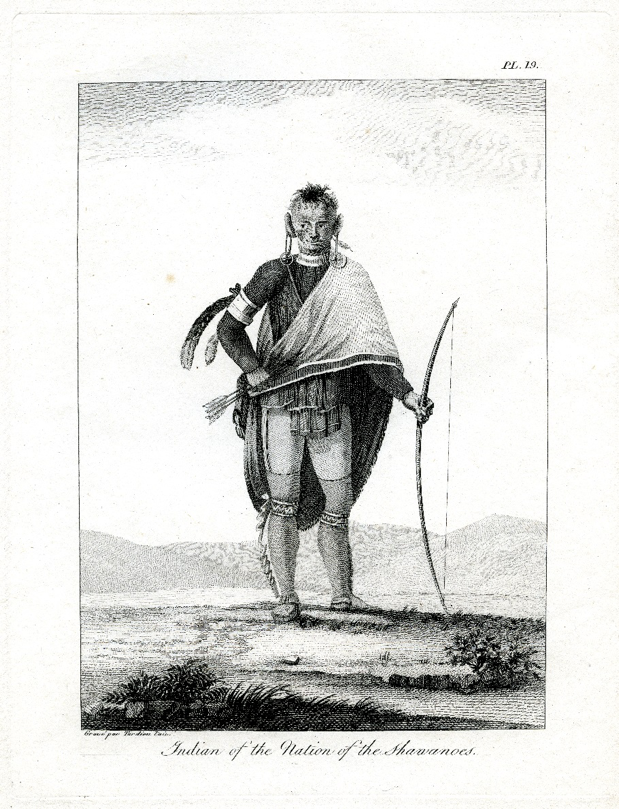 Given his youth – and tendency toward violent resistance – Janney was rightly presumed to be a flight risk and tied accordingly. For other captives, however, the relatively lax method with which they were bound was worthy of note and seemed to indicate more of a nod to tradition than practicality.
Several years prior to his invention of the steamboat, entrepreneur and inventor, John Fitch, was captured when the boat on which he was travelling ran aground on the Ohio River near the mouth of the Muskingum River. Following a brief fire fight, Fitch's company surrendered to a small war party led by several experienced war leaders. Noting that "[t]he Indians was very civil to us and behaved with the greatest coolness and deliberation," Fitch later observed:
…we was all Tied I think as a Badge of Captivity rather than for use for some was Pinioned with a single Rope yarn out of a Rope and I with a piece of Bark not thicker than a Goose quill which I could [have] readily snapped with one fingure and our arms nearly as much at liberty as if not tied at all.
While the cords that bound Fitch and his company together during their march seem to have been improvised from materials found either on their boat or close by, other cords were clearly brought from home specifically for the purpose of binding captives.
Two prisoner restraints on display in the Captured by Indians exhibit speak to the ceremonial significance of these objects. Of two different types, one features a central band adorned with porcupine quill embroidery and long, box-braided cords decorated with tin cones and red-dyed hair. The other, approximately 22 ft. in length, consists of a single box-braided cord woven from dogbane, or Indian hemp. It is decorated at intervals with porcupine quill wraps and finished at the ends with tin cones. While the first cord, or halter, seems to have been made solely for the purpose of leading captives while on the trail (as in the powder horn and 1666 images above), the longer, single cord might also have been used for "pinioning" captives at night.
According to former captive William Biggs, captured in 1788 by a Kickapoo war party, native warriors were even more diligent in preventing escape at night than during the day. Biggs, who had demonstrated a desire to outrun his captors that can only be described as "epic," was firmly bound during the day, but at night received special attention from his new friends. Essentially hogtying their prisoner using several different ropes,
…they then took a rope about six feet long and tied one end to the wrist rope, and the other end to a stake about six feet from me stretched very tight, and an Indian laid on that rope all night; then they took another rope about the same length, and tied one end to the knee rope and; the other end to a stake, and another Indian laid on that all night; then they tied a large half-dressed elk rope, one end to the back part of the neck rope which made a knot as big as my fist, the other end they tied to a stake about six feet from my head. When they finished their tying me, they covered me with a blanket.
Not forgetting the comfort of their prisoner, who they had grown fond of, the warriors supplied Biggs with a deerskin to sleep on and blanket to cover himself during each of the nine nights, in which he was bound.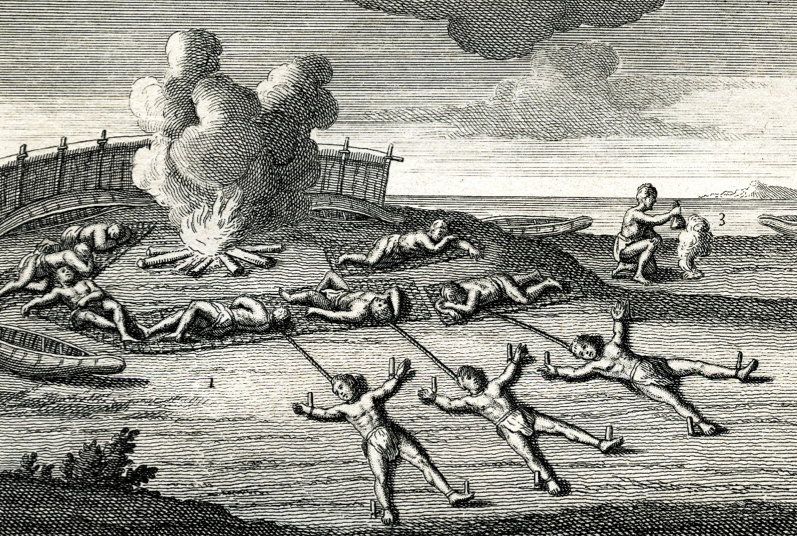 As native villages depended on the adoption of captives for a variety of reasons, transporting them safely and quickly to Indian country was a matter of paramount importance. Part of an ancient and nearly-universal practice among eastern tribes, the ropes bound captives to their captors and warriors to the long-established custom that guided their behavior. Arriving at their villages with captives in tow, the Indians fulfilled the mission with which they were charged and ensured the survival of this most ancient, and necessary, institution.
***
Learn more about the practice of Indian captivity and experience stories from local captives at the Fort Pitt Museum's Captured by Indians: Warfare & Assimilation on the 18th Century Frontier exhibition, open through Sunday, Oct. 2.
For further Reading
Biggs, William. "Narrative of the captivity of William Biggs among the Kickapoo Indians in Illinois in 1788." Available online at archive.org.
Janney, Abel. "Narrative of the Capture of Abel Janney by the Indians in 1782." Available online at the Ohio History Journal archives.
Prager, Frank, ed. "The Autobiography of John Fitch." Philadelphia: American Philosophical Society, 1976.
Mike Burke is the exhibit specialist at the Fort Pitt Museum.