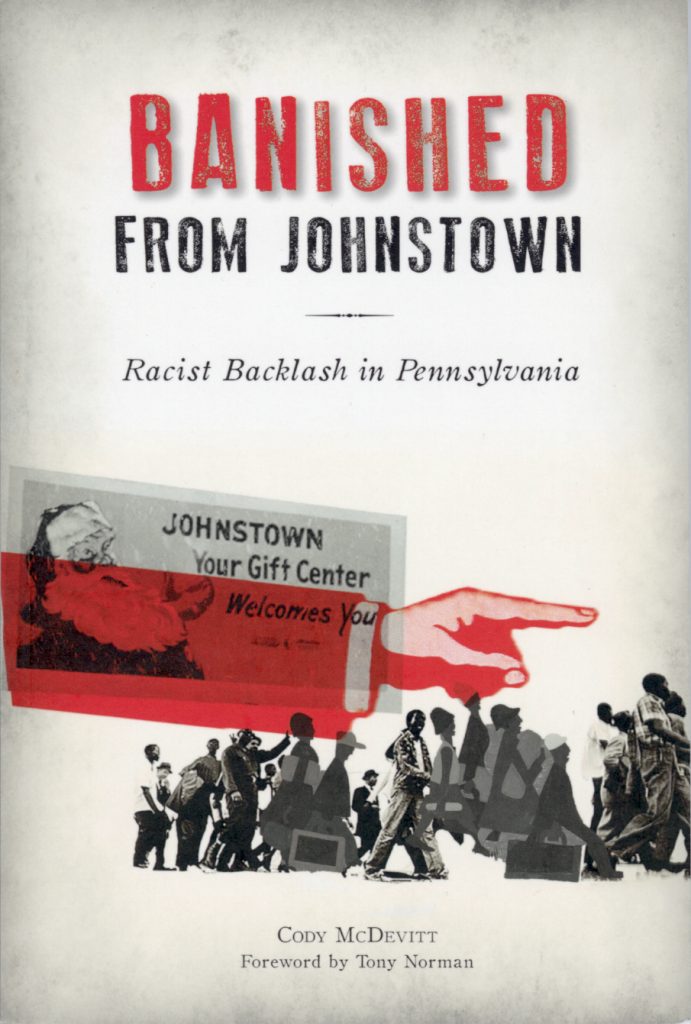 Banished From Johnstown: Racist Backlash in Pennsylvania
By Cody McDevitt
History Press, 2020
224 pages
Paperback, $23.99
Reviewed by Samuel W. Black, Director, African American Program, Heinz History Center
Nearly 100 years ago in 1923, Johnstown ordered the expulsion of African and Mexican Americans from its city limits. The caveat was that Johnstown's Mayor Joseph Caufield, stipulated that only those African Americans who have lived in the city for less than seven years had to leave town immediately. His order was in reaction to a shoot-out that resulted in the deaths of three Johnstown policemen. The killer was an African American man, Robert Young, who was under the influence of drink and drug and even more the influence of jealousy. His clash with police set off a chain reaction of White supremacy from almost nightly Ku Klux Klan demonstrations and the mayor's order to racially cleanse the town.
Johnstown was not alone in racial expulsion or violence during this period in the U.S. From 1919 well into the 1920s, racial violence en masse took place in numerous towns and cities across the country. East St. Louis, Chicago, Rosewood, Elaine, and Tulsa were just a few of the U.S. cities that suffered some of the most heinous race clashes and massacres in history. The Johnstown banishment was condemned in many newspapers and by elected officials in
Pennsylvania and nationwide but it was also supported by those who felt that all Blacks should pay for the actions of one man.
Journalist Cody McDevitt has retold the story of Johnstown's banishment by placing the events in the context of the time amid the continued struggle for equality and rights in a largely Jim Crow society. Using newspaper accounts, oral history, and archival documentation, McDevitt pieces together this story that had been missing from history and forgotten by the passage of time. Comparing with contemporary issues of police and African American community relations, White supremacy, economic strife, and the attack on voting rights, Cody McDevitt's Banished shows that the events in 1923 are not so much dissimilar to those we deal with today.