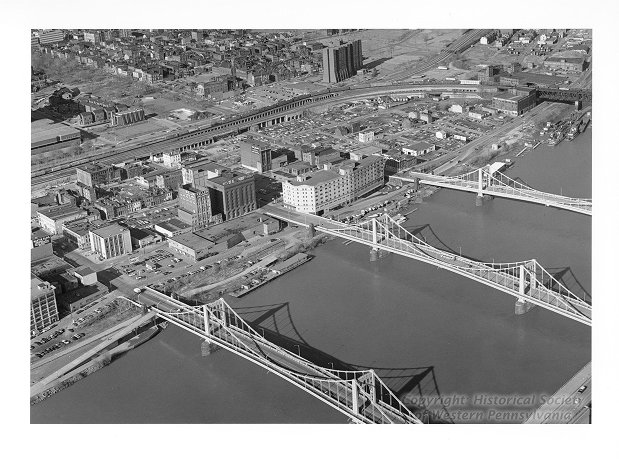 Affectionately known as the "City of Bridges," Pittsburgh boasts 446 bridges. Long before the majestic bridges soared above the Three Rivers, Pittsburgh was a rugged terrain of deep valleys, creeks, and rivers, isolating many of the city's residents.
When the first European settlers arrived in the 1700s, they had to cross streams and climb steep hillsides just to travel around the region. To overcome these challenges, the settlers built wooden bridges to connect newly constructed roadways and span the rivers and valleys.
The city's first river crossing bridge, the Monongahela Bridge, was built in 1818 on the site of what is today the Smithfield Street Bridge. The creator of the Brooklyn Bridge, John Roebling, replaced the wooden structure with a new wire rope suspension bridge, after it was destroyed in the Great Fire of 1845. Increasing weight from additional traffic resulted in its closure and replacement with the modern Smithfield Street Bridge, the oldest steel bridge in the United States.
Throughout the 1900s, as the region's population boomed, Pittsburgh waged a massive road and bridge campaign with the development of the Interstate Highway System. The result was a variety of bridge designs, including suspension, cantilever, and arch, mostly produced from local steel.
Most recognizable is the only trio of identical bridges in the world, the Roberto Clemente, Andy Warhol, and Rachel Carson suspension bridges, which carry traffic across the Allegheny River to Pittsburgh's North Side. These and the hundreds of other Pittsburgh bridges not only connect our region's neighborhoods and residents, but add to the city's unique and beautiful skyline.
Learn more about the bridges of Pittsburgh in the Pittsburgh: A Tradition of Innovation exhibit.
Brady Smith is the Director of Marketing and Communications at the History Center.