Five World Series championships. Nine National League pennants. Honus. Maz. Clemente. Stargell. McCutchen. Baseball fans can relive their favorite moments in Pirates history at the Western Pennsylvania Sports Museum.
Step up to the plate next to a two-story mural depicting Forbes Field, the Pirates' home from 1909-1970. Discover the amazing stories of the Pittsburgh Pirates' five World Championships with one-of-a-kind artifacts spanning more than 125 years of professional baseball. Search for your all-time favorite Pirates on the Sports Museum's Wall of Trading Cards, featuring more than 1,000 baseball cards spanning from 1885 through the present day.
Exhibit Must-Sees
The Home Run: Relive one of the greatest moments in Major League Baseball history – Bill Mazeroski's Game 7 home run to clinch the 1960 World Series over the New York Yankees. Feel goose bumps as you explore the Sports Museum's 1960 World Series collection that includes Maseroski's uniform and bat, along with a lifelike figure of Maz hitting the legendary round-tripper.
Get in the Game: View game-worn uniforms, gloves, bats, and other equipment from Pirate greats like Wagner, Clemente, Groat, Stargell, Bonds, McCutchen, and more.
Play-By-Play: The first ever Major League Baseball radio telecast aired on Aug. 5, 1921, when KDKA broadcast a game between the Pirates and intrastate rival Philadelphia in Pittsburgh. Celebrate Pittsburgh's broadcasting tradition and listen to calls by legendary play-by-play announcers from Rosey Rowswell and Nellie King to Bob Prince and Lanny Frattare.
Artifact Spotlight: 1960 World Series
Thanks to a generous donation from Alba and Thomas Tull, Bill Mazeroski's iconic uniform and bat from Game 7 of the 1960 World Series are part of the permanent collection at the Sports Museum.
Mazeroski's Pirates uniform and bronzed 35-inch Louisville Slugger bat are on display, along with other artifacts from Game 7, including the Forbes Field pitching rubber from which Yankees pitcher Ralph Terry served up the homer to Maz.
Artifact Spotlight: Willie Stargell Home Jersey, 1982
Few players spend their entire career in one city and are as beloved as Willie "Pops" Stargell. His affinity for Pittsburgh began with his prodigious power hitting, which even spacious Forbes Field could not contain. He matured with Roberto Clemente's tutelage and his ability to lead the team became as important as his offensive output on the field. Stargell wore this jersey during the last year of his career, which he finished with 475 home runs and 1,540 runs batted in – both all-time Pirates records.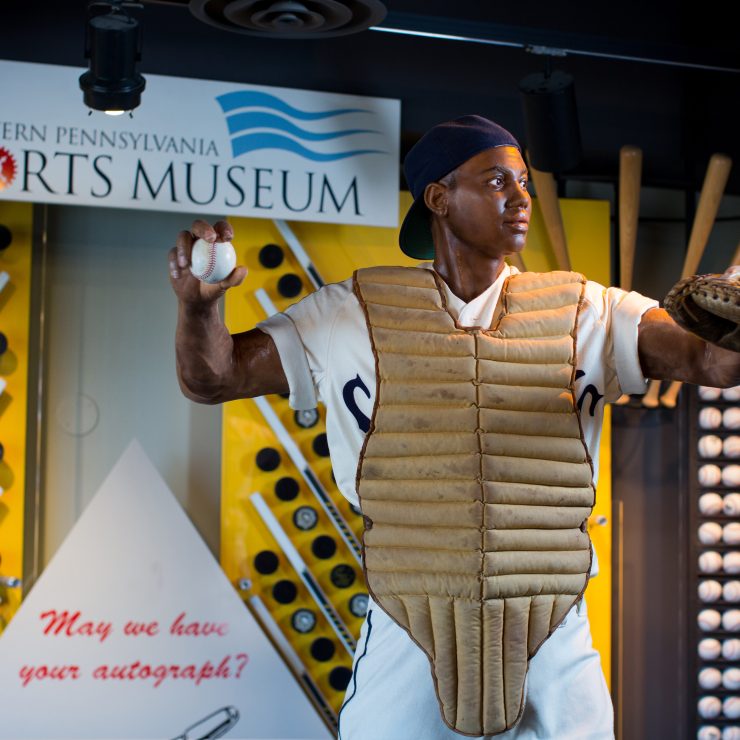 Celebrate the athletes and sports fans in your life.
Autograph a baseball, bat, football, or hockey puck to be displayed in the Sports Museum, or share your message on the Black and Gold Wall at the museum's entrance.