It's always "A Great Day for Hockey" inside the Western Pennsylvania Sports Museum!
Pittsburgh Penguins fans won't want to miss the Sports Museum's newest exhibition that showcases artifacts from all five Stanley Cup teams, in addition to game-worn equipment from legends like Mario Lemieux, Sidney Crosby, Evgeni Malkin, and Marc-Andre Fleury.
Along with documenting the Penguins' franchise, A Great Day for Hockey tells the fascinating history of the sport of hockey in Pittsburgh, from Olympians like Drury, Brianne McLaughlin, and Paralympian Dan McCoy, to the region's early teams like the Yellow Jackets and Hornets. The exhibit also features game-worn items from the Pittsburgh Pennies, who were a professional women's hockey club that competed in the Mid-Atlantic Women's Hockey League.
Fans can take on the cross-state rival Philadelphia Flyers in a game of bubble hockey, experience the sights and sounds of the Penguins' championship wins, and take a selfie with a lifelike figure of Lemieux hoisting an exact replica of the Stanley Cup!
Exhibit Must-Sees
Mario Lemieux's skates and hockey stick;
A game-worn Sidney Crosby jersey and a hockey stick used during his rookie season;
Helmet and gloves worn by Evgeni Malkin in the 2011 Winter Classic;
Goalie pads and skates worn by Marc-Andre Fleury;
A collection of game-used sticks from the 2009 Stanley Cup champion Pittsburgh Penguins;
Hockey sticks used by Jaromir Jagr and Ron Francis;
A Pittsburgh Pennies uniform worn by Jean Lombardi, circa 1972;
Gold-medalist Paralympian Dan McCoy's hockey sled, helmet, gloves, and boots;
Herb Drury's 1924 Olympic silver medal; and
Piece of outer roof tile and exterior signage from Civic Arena.
Artifact Spotlight: Mario Lemieux 1991 Stanley Cup Jersey
Mario Lemieux captained the Pittsburgh Penguins to their first Stanley Cup Championship in 1991, defeating the Minnesota North Stars, four games to two. Lemieux, who missed the first 50 games of the 1990-91 season due to back surgery, was a major force in the playoffs. In 15 games, he scored 16 goals and notched 18 assists to win the Conn Smythe Trophy for most valuable player of the playoffs.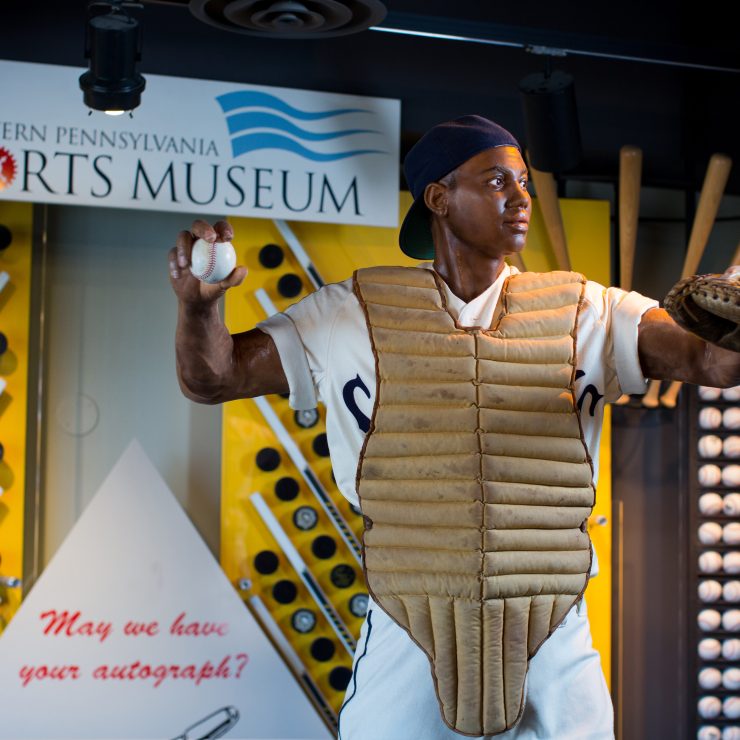 Celebrate the athletes and sports fans in your life.
Autograph a baseball, bat, football, or hockey puck to be displayed in the Sports Museum, or share your message on the Black and Gold Wall at the museum's entrance.