As home to two of the Negro League's most dominant teams – the Homestead Grays and Pittsburgh Crawfords – Pittsburgh was once the center of Negro League baseball.
From 1937 to 1945, with the help of future Hall of Famers like Josh Gibson, "Cool Papa" Bell, Judy Johnson, and Buck Leonard, the Homestead Grays won an unprecedented nine consecutive league pennants and three Negro League World Series titles.
The Crawfords rose to prominence after Gus Greenlee bought the team in 1931 with profits from his popular night club, the Crawford Grill, and winnings from running the "numbers game." Greenlee stocked his team with some of the best African American talent in baseball, enticing players such as Gibson and Oscar Charleston to leave the Homestead Grays to come play for the Crawfords. With a stacked roster, the Crawfords developed into one of the best teams in baseball, peaking with a Negro National League championship in 1935.
The legacy of Pittsburgh's Negro League teams is evident inside the walls of Cooperstown, as 15 players from the Grays and Crawfords are enshrined in the National Baseball Hall of Fame.
Exhibit Must-Sees
Negro League Theater: Enjoy a short film narrated by Hall of Famer Joe Morgan called, "Something to Cheer About: The Negro Leagues in Pittsburgh."
Satchel Paige's glove: One of the most dominant pitchers in baseball history, Paige competed in the Negro Leagues for almost two decades, starring for many teams, including the Pittsburgh Crawfords during the mid-1930s.
Greenlee Field: Take a virtual tour of the first black-built and owned baseball field in the U.S. The 7,500-seat Greenlee Field was named after the Crawfords' owner, Gus Greenlee, who helped finance the park's construction in the Hill District in 1932.
Artifact Spotlight: Homestead Grays Jersey
The Homestead Grays wore various uniforms during its 50 years as a team. This uniform was worn by Clarence Bruce, a second baseman for the Grays from 1946 to 1948.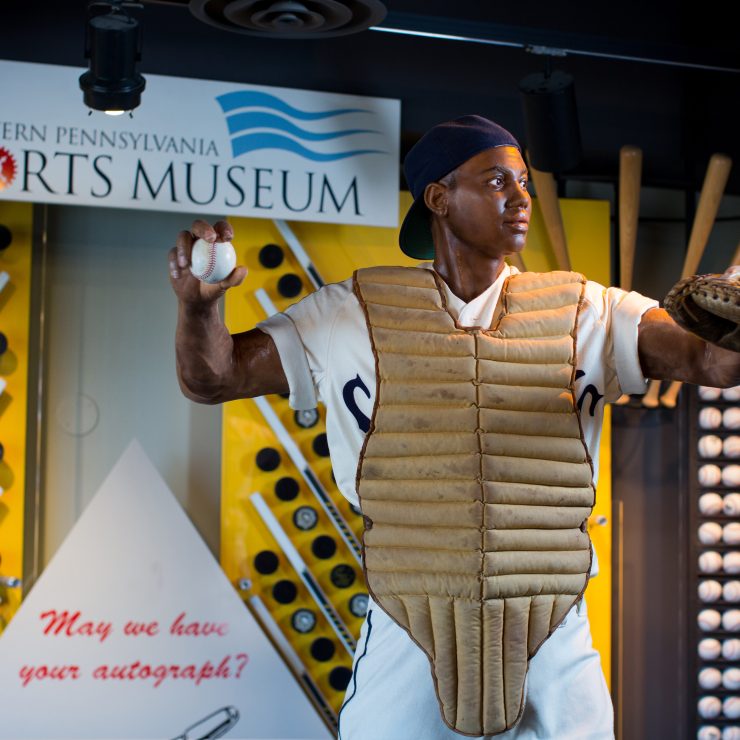 Celebrate the athletes and sports fans in your life.
Autograph a baseball, bat, football, or hockey puck to be displayed in the Sports Museum, or share your message on the Black and Gold Wall at the museum's entrance.